We recommend everything that we review independently and the opinions expressed here are our own. We may earn a commission when you buy through our links.
Disclosure
We all wish to get that perfect dark bronzed tan. But the problem arises when patchy circles are formed beneath our eyes after tanning.
The main cause of these patches which are also called raccoon eyes is the goggles we use to protect our eyes during the tanning session.
So, you need to adjust the goggles over time so, that all the areas around your eyes get tan evenly. Other than the goggles there are several other reasons behind raccoon eyes.
Here I will discuss some other causes of raccoon eyes and how to get rid of them after tanning.
How Can You Cover Your Raccoon Eyes?
Do not worry much If you notice being left with raccoon eyes after your tanning session. You can easily cover it up using simple makeup essentials.
Here are some ways to cover your raccoon eyes with makeup so, that your tan looks natural.
Choose the Right Foundation
Always choose the right color foundation that matches the color of your new tan. As the area around your eyes is lighter than other parts of your face, you should go for a waterproof foundation with a lighter shade.
Although Waterproof foundations are quite expensive, to achieve better coverage and make it last longer you should not think much about spending the money.
One of the best foundations that I suggest to my clients is the dermablend. Its shade suits almost every skin tone and it is also lightweight and blends easily. This foundation contains SPF 25 for that extra protection.
Apply Foundation Correctly
You need to apply the foundation in such a way so, that it gets blended with your new tan easily and gives you a natural look.
At first, you need to make dots using foundation around your eyes. Pat it down gently and blend it properly using your fingers.
By rubbing slowly you can expand the area outside the lighter circle. Now, let it dry out for 2 minutes. Do not be harsh while applying the foundation as the area around your eyes is quite delicate.
You can easily get a natural tone if you gently blend the foundation towards the lighter circle's outside.
If you follow the above-mentioned tips correctly then, you can easily get rid of your raccoon eyes.
Use Powder
To get a matte look and to set your foundation always dust some loose powder over the foundation.
You can use both colored or translucent powder but it should match the shade of your new tan.
Use a powder brush that will help you to set the powder evenly over your face. You can use a translucent powder even after your tan has faded away.
One of my favorite products is the anastasia beverly hills loose setting powder. You can easily purchase this product from amazon.
Ways to Get Rid of Raccoon Eyes From Tanning
Using goggles prevents your eyes from direct exposure to the UV rays while tanning.
But it leads to raccoon eyes where all other parts of your face get that dark, even tan except the eye bordering skin. So, here are some best methods you should follow to get rid of raccoon eyes after tanning.
1. Use Sunscreen With Higher Spf
To get an even tan you should use sunscreen with higher SPF like 30 or 50 all over your face.
SPF 30 can be used on the area around your eyes which is covered by goggles while tanning. Always use SPF 50 on parts of your face that are not covered.
This will create a balance between the area around your eyes and other parts of your face. By using both SPF 30 and 50 you will get an even, dark tan easily.
2. Go for Disposable Eyewear
Disposable goggles are medically approved adhesive tape that is quite easy to use. Most disposable eyewear is strapless and has a cone-shaped flexible design.
These goggles are one-time usable and thus, help you to maintain proper hygiene. This eyewear can be easily fixed on your eyelids without covering the surrounding area. So, you can easily get that even, dark tan without raccoon eyes and tan lines.
3. Adjust the Goggles
To get that even tan besides protecting your eyes, you need to adjust your tanning goggles frequently. This is one of the best ways to avoid raccoon eyes.
Sale
To minimize the coverage over the skin under your eyes you need to move the bottom end of the goggles every couple of minutes. Always keep the upper tips of the goggles steady on your eyelids.
If you are using ridge-less or strapless goggles then, just remember to adjust them every few minutes to prevent the formation of tan lines on your temples.
4. Try Out Tanning Lotion With Bronzer
If you want to provide warmth and color to your skin then, go for a tanning lotion that contains bronzer like the beauty by earth.
Sale
Apply a light layer of the tanning lotion on the skin under your eyes if you have got raccoon eyes.
Overusing the bronzing lotion on the area beneath your eyes may lead to dark circles. So, just use less than half a pea-sized lotion under your eyes and gently blend it.
5. Wear Makeup
By using the right shade of makeup you can easily cover up mild white circles that form around your eyes after tanning.
Although using makeup to get rid of raccoon eyes is not a permanent solution, it can surely help you when you need to go out instantly.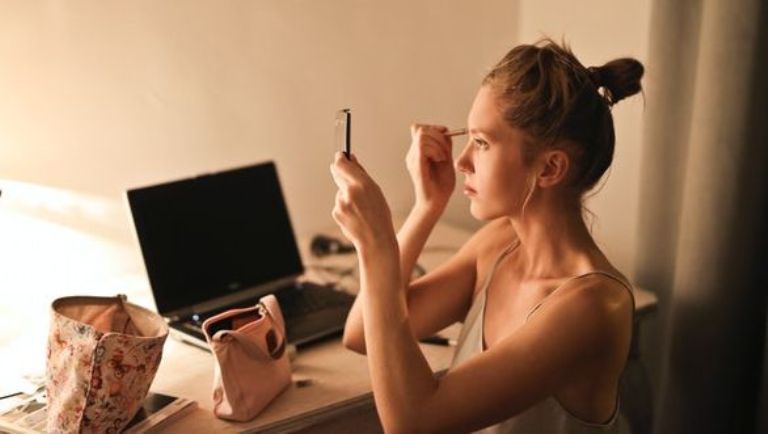 Always use a foundation that matches your new tan shade as the skin under the eyes is lighter than other parts of the face. This will make your look more natural.
Make small dots using foundation around your eyes and dab it gently. This will help you to blend the foundation easily and give you a natural look without raccoon eyes. Lastly, use some loose powder to hold the makeup for long.
Conclusion
While tanning can be fun, raccoon eyes can be annoying for most of us. being a tanning expert I will suggest you all follow the above-mentioned tips properly to get rid of raccoon eyes from tanning.
Using goggles and adjusting them periodically is very important to avoid tan lines. So, now enjoy your tanning bed session without getting worried about raccoon eyes and tan lines.