Protecting your eyes is very important while using tanning beds. And tanning goggles can be the best option to help you protect your eyes from harmful UV rays.
If you are going to a salon for a tanning session using a tanning bed then, they will give you the tanning goggles. But it is always advisable to get your own goggles.
In this article, I will share with you some valid reasons to have your own tanning goggles. I will let you know where to buy tanning goggles for eye protection.
Why You Should Get Your Own Tanning Goggles?
Getting your own goggles is the safest idea although tanning salons will provide one if you go there for your tanning session.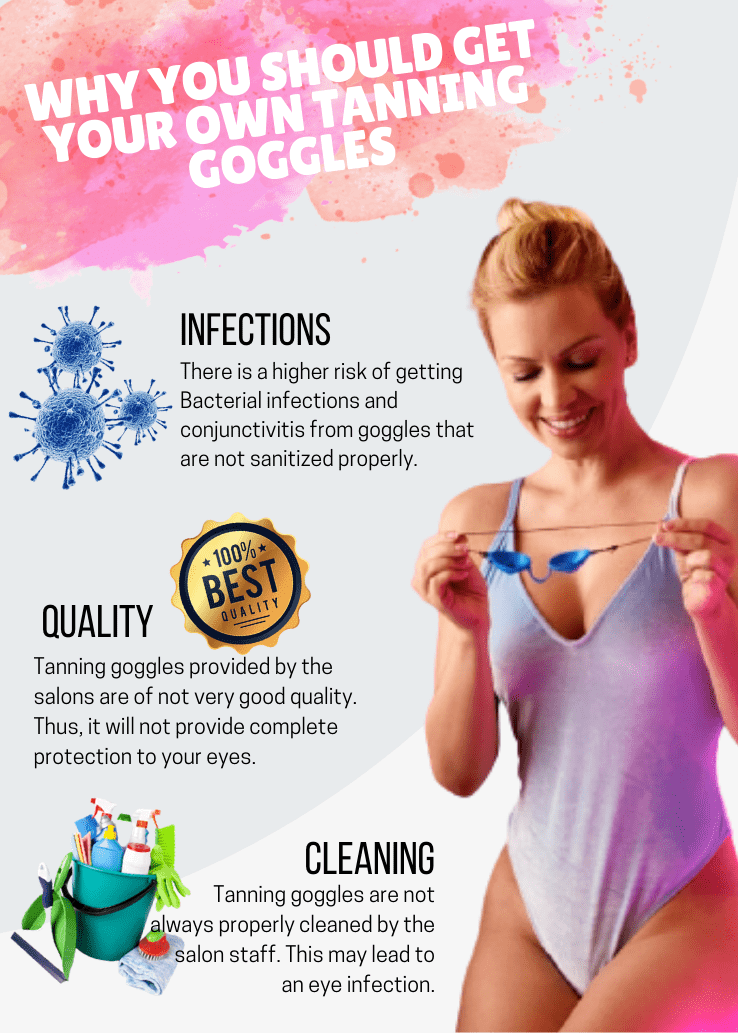 But there are several reasons why should you have your own tanning goggles.
There is a higher risk of getting Bacterial infections and conjunctivitis from goggles that are not sanitized properly.
Tanning goggles provided by the salons are of not very good quality. Thus, it will not provide complete protection to your eyes.
Tanning goggles are not always properly cleaned by the salon staff. This may lead to an eye infection.
So it is always better to get your own tanning goggles and use them in tanning beds.
From Where to Purchase?
Tanning goggles are easily available online or in stores near you. They are available in different shapes, styles, and sizes.
You can buy these goggles online within your budget. Let me suggest to you some tips to get the perfect tanning goggles.
Online Purchase
Buying your tanning goggles online can be a great idea. It is quite cheap and you can easily avail of the return policy if the goggles get damaged or do not fit you properly. You need to be very aware while selecting the shape and size for your eyes.
Unfit goggles cannot provide complete protection to your eyes on a tanning bed. Before buying tanning goggles online, make sure to go through the customer reviews, product description, and whether it is approved by FDA or not. This will help you to get an idea about the product.
You might not get the perfect goggles on the first go but, most online services have return and refund policies. But buying best-fitting goggles is always recommended.
Purchase Tanning Goggles in Supermarkets or Salons
Buying tanning goggles from the supermarket or a salon near you is also a good idea.
Here you can try them out before buying. As mentioned above best-fitted goggles can give you complete protection.
So, getting your own goggles from supermarkets or salons can also be an easy option. Besides, these supermarkets often provide good discounts.
How Much Does It Cost to Get a Spray Tan?
We will let you know how much a spray tan is and which one should you opt for.
How Much Does Tanning Goggles Cost?
If you are not a frequent tanning bed user then, I will suggest you not buy very expensive tanning goggles.
Many websites sell good quality products and their prices are also not very high. So, you can go for a standard one to protect your eyes.
Buying online can help you to get a pack of goggles within your budget. Having an extra pair is always good.
As long as you get the perfect fit, proper protection, and coverage there is no need to purchase an expensive one.
Standard tanning goggles will not cost you more than $50. The disposable one can be quite expensive.
Tanning bed goggles are mandatory while using tanning beds. The above-mentioned tips can help you to get the perfect fitted goggles.
Your goggles should always be well-fitted and comfortable. As perfect tanning goggles can protect your eyes from harmful UV rays during the tanning session.