Most of us love to go out and get tan in those warm summer months. As sun tanning is the most natural form of tanning so, it does not cause severe side effects if done properly.
However, my friends and clients often complain to me about the sun spots and freckles that often appear after spending long hours in the sun and also after using different self-tanning products.
Freckles or pigmented spots are a sign of sun damage. So, you need to take proper care of your skin to avoid them.
Dealing with so many clients and their problems I can assure you that proper before and after care can easily help you to prevent sunspots. So, check out this post to know more about how to get tan without freckles.
How Can You Get Tan Without Freckles?
Protecting your skin by using a good sunscreen with a higher SPF can help you protect your faux tan from freckles. Here are some other helpful tips you need to follow before going out for sun tanning.
Apply Sunscreen
UV protection is very important while sunbathing to prevent sun damage. Always use sunscreen with SPF 30 and above for complete protection. The higher the SPF is the more protected your skin will be.
Also, do not spend excess time in the sun. just stay for the amount of time necessary to get tan. Spending long hours under the sun can burn your skin easily and cause freckles and sun spots.
This is also applicable to tanning beds. Do not stay for long hours in a tanning bed to prevent your skin from damage.
Best Sunscreen for Beach Vacation
Follow my post on some best sunscreen to get the right one for yourself
Stay Away From Strong Sun Rays
Sun tanning should always be done in the morning before 10 am to get that desired result without sunburn or freckles.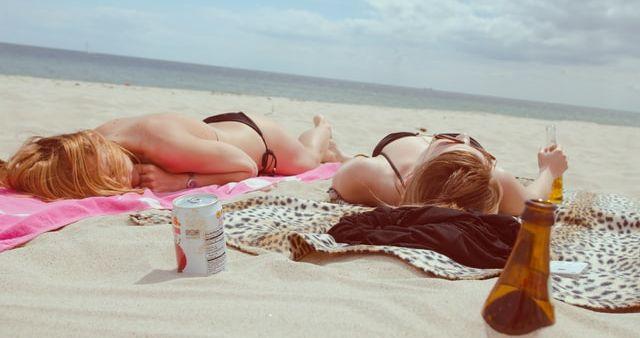 The sun's rays are very strong from 10 am to 4 pm on those summer days. So this period of time should be avoided.
Do not spend excess time in the sun as it will lead to pigmented spots, freckles, and other skin problems. Also Read: Is Getting Tan Twice a Day Safe for Your Skin?
Use Self-tanner
If you are using self-tanners then, try to begin at one ankle, moving up the leg. Following this method do the other leg as well.
You need to apply the self-tanner in a circular, upward motion so, that the tanning solution gets absorbed by your skin properly giving you that dark, even tan.
Always use the self-tanner on one body part at a time. To know more about some best self-tanners check out my post on Top 10 Tanning Lotions Without Bronzer
Wear a Wide Hat
Wearing a wide-brim hat can be quite useful when you are tanning on a beach.
This hat will protect your face to a great extent from the UV rays and thus, prevent freckles and other signs of sun damage.
Exfoliate and Use Moisturizer
Exfoliating your skin using a gentle, oil-free scrub is very important. Scrubbing removes dead skin cells and thus, creates a smooth surface for application.
Also use a lightweight moisturizer on your knees, heels, and elbows as these parts have thick skin than other parts of our body. applying a light layer of moisturizer will quickly absorb the self-tanner.
Remove Unwanted Hair
Using a self-tanner on your hairy skin can stop it from getting absorbed by your skin easily.
So, remove all unwanted hair by waxing or shaving before using a self-tanner. You may also like to read: What to Do Before Getting Your First Brazilian Wax?
Leave It to Dry Out
Your self-tanner needs to be completely dried to get that perfect result. Most of the time the drying time is mentioned by the manufacturer on the bottle or tube.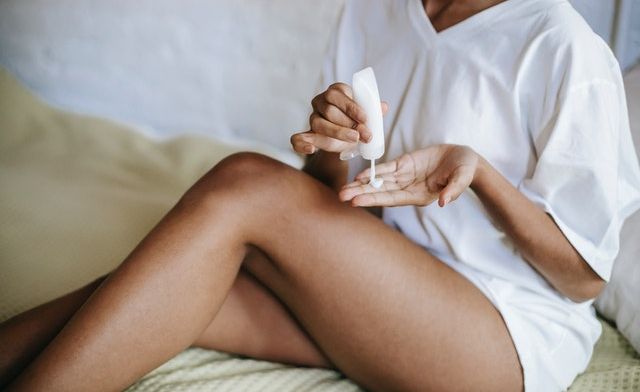 Waiting for 10 to 15 minutes is necessary after using a self-tanner so, that it gets time to dry out.
Putting on your clothes just, after applying a self-tanner can stain them and also lead to patches, and uneven tan.
Wrapping Up
Getting sun damage depends on several factors like the time spent in the sun and also, your genes.
Some people may notice dark spots and freckles on their skin even if they are not spending excess time in the sun.
However, freckles caused while sun tanning can be avoided if you follow the tips shared above. So, enjoy your summer and go out to the beach to get tan without worrying much about freckles and sun damage.