Spray tanning is the easiest way of getting tan without any sun damage to your skin.
It can be easily done at home and can give you that natural glowing tanned look in no time. But applying the fake tan without using a mitt can be a disaster.
As the orange color gets absorbed by your hands and feet which is quite difficult to get rid of.
The orange color on your hands and feet can make you frustrated and you want to remove it as soon as possible.
So, being an experienced tanning expert here I will share with you some useful and effective ways to remove spray tan from hands and feet.
How to Remove Spry Tan From Hands and Feet?
Spray tanning is always useful when you cannot go out in the sun to get that bronzed look.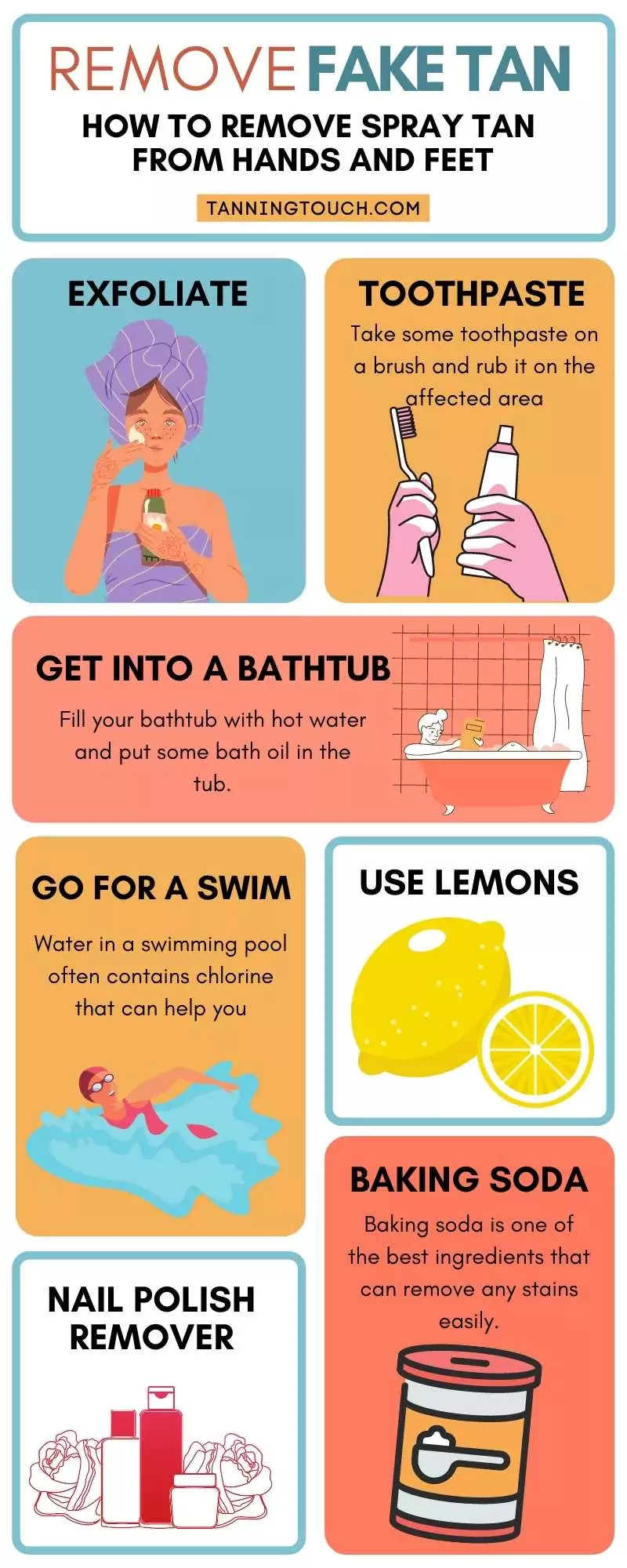 It can help you to achieve that perfect sun-kissed look in no time.
But the color that gets absorbed by your hands and feet while using the fake tan can be annoying.
So, here are some easy and safe tips to remove those orange stains overnight.
Exfoliate 
Exfoliating can be more effective than using any body wash to remove those orange stains.
Exfoliating can remove dead skin cells and thus the orange stain gets removed easily.
There are several exfoliating products available in the market so, you can go for any of them.
Get Into a Bathtub
The tough orange stain might not go away by taking a regular bath. So here are some remedies to remove the stains quickly.
Fill your bathtub with hot water and put some bath oil in the tub. Also, moisturize your body with body oil before getting into the hot water.
The hot water and oil will easily break down the spray tan and thus, help you remove the stains quickly.
You can also rub body oil on the stains and let some hot water run over them so that the oil seeps in.
use a body wash that contains sulfate to remove the stains. Then, wash off by using an exfoliate to remove the extra color from your hands and feet.
Use Whitening Toothpaste
Using spray tan can often leave the crevasses of your palms and fingernails with pigmentation.
So, using any whitening toothpaste can be effective in removing those pigments.
Take some toothpaste on a brush and rub it on the affected area in a circular motion. Then, rinse and wash your hands properly. You might also like: DIY Ways to Remove Self Tanner Easily at Home
Go for a Swim
Water in a swimming pool often contains chlorine that can help you remove the spray tan from your hands and feet.
Chlorine acts as a bleaching agent and thus, can remove the tough stains from those pesky areas.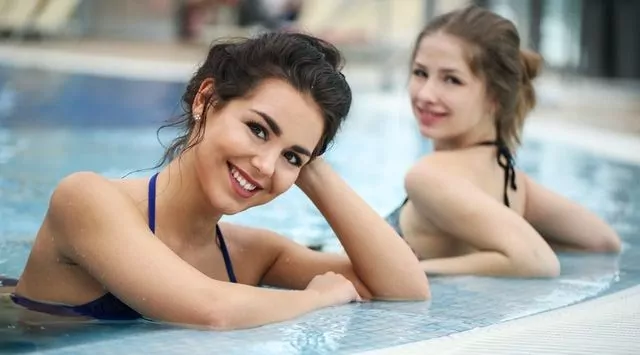 After swimming, remember to take a shower to remove the chlorine from your skin.
Then, exfoliate your skin or use a warm washcloth to remove the dead skin.
Remove Spray Tan Using Lemons
Lemons can be used in different ways to get rid of the tough stains from your hands and feet.
Lemon contains natural bleaching properties so, it can be very effective in removing the fake tan.
You can prepare a homemade scrub by mixing lemon juice with a cup of sugar.
Now rub the affected areas with this mixture and leave it for a few minutes. Then, wash off with warm water to get a visible result.
You can also rub your stained hands and feet using a half-inch thick lemon rind.
Another mixture can be prepared by using lemon juice, rose water, and cucumber juice.
Apply this mixture on your hands and feet and leave it for 15 to 20 minutes. Then, wash off with warm water.
Try Nail Polish Remover for Nails
A nail polish remover contains acetone which can be quite effective in removing those tough, orange stains.
Take some nail polish remover in a cotton ball and apply it to your nails. The process is the same as you use a remover to remove your nail polish
Baking Soda 
Baking soda is one of the best ingredients that can remove any stains easily.
Make a scrub by mixing one cup of baking soda with a half cup of sweet almond oil.
You can mix a few drops of lavender essential oil for a good smell.
Arm & Hammer Baking Soda
America's #1 Trusted Baking Soda brand Versatile, effective and affordable solution for over 170 years
Exfoliate your skin with this mixture by rubbing the affected area in a circular motion. Then, wash off using warm water.
You can also make a paste by mixing a tbsp. of baking soda with 2 tbsp. of warm water.
Rub and exfoliate your hands and feet with the paste and leave it for 2 minutes. Then, wash off using warm water.
---
Some Other Helpful Tips
To remove the spray tan stains from any other parts of your body always use disposable gloves before following the remedies given above.
Try to keep your arms, wrists, fingers, and hands away from direct contact with the removal product as much as possible.
---
As we all know that "practice makes a man perfect". So, use a spray tan to get that glowing bronzed look without hesitation.
The remedies shared above can be effective and safe to remove spray tan from your hands and feet.
So, enjoy your spray tanning session without being worried about the orange stain.