We recommend everything that we review independently and the opinions expressed here are our own. We may earn a commission when you buy through our links.
Disclosure
People with sensitive skin are always worried about using cosmetic products as they may react to their skin.
So, choosing the right tanning lotion for sensitive skin is very important to get that perfect sun-kissed look without any allergic reaction.
In today's world, people are busy with their hectic schedules and do not have time to go out to get a tan.
So, using tanning lotion is the best option for them. Tanning lotions made for sensitive skin should contain organic and natural ingredients with no harsh chemicals.
There are several tanning lotions available in the market for sensitive skin and you need to choose the right one that suits you.
Here, I will share with you my opinion on some of the best tanning lotions for sensitive skin and also guide you in choosing the right product.
How Do You Choose the Best Tanning Lotion for Sensitive Skin?
Choosing a tanning lotion for your sensitive skin can be easy if you follow the tips given below. You need to choose a product that suits your skin and also gives you that natural bronzed look.
Skin Nourishment
We mostly use tanning lotions in a tanning bed or before going out in the sun to get tan.
So, it is important to choose a lotion that can protect your skin from harmful UV rays besides, helping to get that dark glowing tan.
Always go for a product that contains skin-loving ingredients like vitamin E and shea butter so, that your skin remains hydrated and nourished even after getting tan.
Skin-loving Ingredients
People with sensitive skin should always choose a tanning lotion that contains natural ingredients and a gentle bronzer.
The bronzer can help you to get that desired tan look and natural ingredients like shea butter, aloe vera, fruit extracts, and argan oil can nourish your skin and make it soft.
To avoid irritation always use a product that is free of artificial ingredients.
Choose the Right Color
It is necessary to identify your skin tone before using a tanning lotion for sensitive skin.
Although most tanning lotions contain bronzer it depends on the time you spend in a tanning bed or under the sun to get that golden color.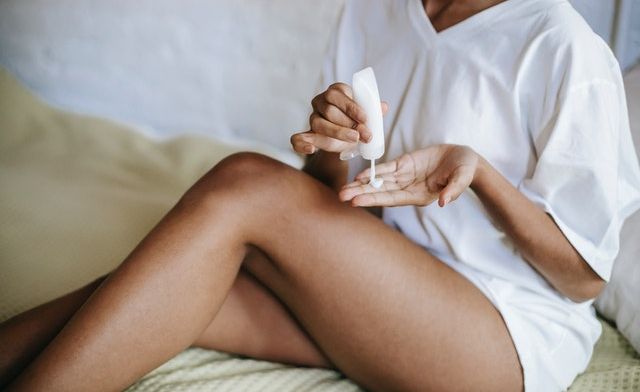 To keep your look natural always choose a dark tanning lotion if your skin is naturally dark and a light lotion if you have fair skin. You may also like to read: A Complete Guide to Choose the Perfect Spray Tan Shade
Outdoor and Indoor Tanning Lotion
Most tanning lotions are not meant to use both indoors and outdoor. So, before choosing a tanning lotion for your sensitive skin you need to decide where you will be using the lotion.
Outdoor tanning lotions contain mineral oils so, using them in a tanning bed will damage the bed lining.
It is important to choose the right tanning lotion that is suited for outdoor and indoor tanning.
SPF
A person with sensitive skin can go for low SPF protection. To prevent your skin from getting burnt while tanning try out SPF 4 or something similar to that.
This will help you to get that gorgeous tan besides, protecting your skin.
Best Indoor Tanning Lotions for Sensitive Skin 2022
Here are some best indoor tanning lotions for sensitive skin. Try them out to get that perfect golden glowing tan.
5. Botanic Tree Self-tanner Organic Sunless Tanner
This organic tanner completely hydrates your skin besides, giving you that natural glowing tan. It is easily absorbed by your skin and leaves no stain behind.
It is a paraben, cruelty-free streak-free product that you should use to get that perfect tan even if you have sensitive skin.
This self-tanner contains shea butter and aloe vera to provide adequate moisture to your skin and keep it soft.
---
4. Hempz Dark Tan Maximizer, Hypoallergenic
This is one of the best organic self-tanners that can easily be used by people with sensitive skin.
It contains natural ingredients like mango seed butter and oatmeal to prevent any irritation and keep your skin smooth.
This self-tanner is nut-free, gluten-free, paraben-free, hypoallergenic, and consists of vegan formula. The hemp seed oil moisturizes your skin and makes it soft and shiny.
This product is also fragrance-free and nongreasy so, it is loved by most people with sensitive skin.
---
3. Bahama Tan Self-tanning Lotion
This self-tanning lotion is a must if you want to get your sensitive skin tan. It is a paraben and gluten-free product that contains some of the best natural ingredients.
A single bottle lasts for a week if you use it to tan your whole body. Its level-2 medium shade is the best option for those with medium to light skin tones.
To get that desired result you can use the product for 1 to 4 consecutive days.
---
2. Devoted Creations # Tanlife Hydrating Tanning Butter
This tanning lotion contains shea butter and thus, can be a good option for people with sensitive skin.
Shea butter has anti-inflammatory properties and contains vitamins and fatty acids to make your skin soft besides tanning.
The natural ingredients in this lotion soothe and moisturize your sensitive skin and get quickly absorbed by your skin.
To prevent wrinkles, aging, and fine lines this product contains advanced matrixyl synthe 6 and revitafit body fit. It also protects your tattoo and prevents it from fading away.
---
1. Maui Babe Browning Lotion
This is one of the best indoor tanning accelerators that can be used on all skin types.
It is mainly formulated for the tanning bed and contains different natural ingredients like coffee extract, sunflower oil, and vitamins.
As it contains sunflower oil so, it is safe to use for the acrylics of the sunbeds. This lotion can be used on your face and has a soothing smell.
---
What Skin Problems Can Arise if Indoor Tanning Is Not Done Properly?
People with sensitive skin may face several side effects if the tanning lotion is not used correctly. Here are some of them.
Chapped or Flaky Skin
Besides tanning, hydration is very important. You may notice chapped skin if your skin lacks moisture and is not enough hydrated.
Skin Irritation
People with sensitive skin often get irritation after using a tanning lotion. So, choosing the one that suits your skin is very important.
Other Issues
Some other issues like inflammation, burning sensation, and redness may also be seen. So, a patch test is very important before using indoor tanning lotion.
Prepare a Homemade Tanning Oil
We will share with you a good tanning oil substitute and how to prepare your tanning oil at home.
How to Take Care of Sensitive Skin After Tanning?
There are several common problems like itchiness, chapped or cracked skin, and dryness that can be noticed after using the tanning lotion.
So, people with sensitive skin should take some extra care by moisturizing their skin after each tanning session.
Use a good moisturizer to keep your skin nourished and get relief from the side effects.
Conclusion
Tanning is fun when you have healthy glowing skin. People with sensitive skin should always care for their skin before and after tanning each session.
The above-mentioned tips can be very useful for those with sensitive skin if followed correctly.
Always go for products that contain organic ingredients and minerals to keep your skin hydrated besides getting that glowing bronzed look.
Choose the right products that suit your skin and use indoor tanning lotions without fear.
Frequently Asked Questions​
When using tanning lotion what ingredient should be avoided by people with sensitive skin?

Indoor tanning lotions that contain tinglers should be avoided by people with sensitive skin types. The tinglers can cause some reactions as tinglers contain ingredients that increase blood flow to the skin. People with sensitivity should also avoid using lotions that contain menthol.

What ingredients are best for people with sensitive skin when using tanning lotion?

People with sensitive skin should always look out for products that contain natural and organic ingredients. To keep your skin healthy always avoid products that contain harsh chemicals. Always go for tanning lotions that contain moisturizing properties like passion fruit, shea butter, and avocado. Do remember to use only hypoallergenic self-tanning lotions.

What should people with sensitive skin expect from indoor tanning?

Tanning lotions containing moisturizing properties, natural ingredients, and minerals are best for people with sensitive skin. Their tanning lotion should be hypoallergenic and contain ingredients to prevent any irritation. Sometimes the fragrance of the product can aggravate sensitive skin. So, people with this skin type should use dye-free and fragrance-free products.