You will always want to get a spray tan that is compatible with your skin tone. So, choosing the best shade for your body can be a tough decision.
To get that perfect and fabulous tan, the time of the year when the spray tan is being done should also be taken into consideration.
Being a tanning expert here, I will guide you to choose that perfect spray tan color that matches your skin tone.
I will also help you to choose the spray tan color based on different seasons.
How to Choose a Spray Tan Color Based on Your Skin Tone?
Your spray tan color should be compatible with your skin tone. Here is a brief on how to choose a spray tan Shade Chart based on your skin tone.
Dark Skin Tone
A natural classic shade or a chocolate shade can be good options for people with dark to very dark skin tones.
Although some people believe that dark skin tones people do not need to tan as tanning can give their skin that golden glow with a more defined look. Also Read: Want to Get Dark Tan in One Day? Follow 4 Methods
Fair Skin Tone
A soft golden-based spray tan can be a good option for people with fair to very fair skin in the beginning.
But you can also go for red or violet-based spray tans if you want to get that darker shade.
Medium Skin Tone
Medium skin tone people do not need much effort for that glowing tan look. They can always try out caramel, bronze, colorless, or classic shades to enhance their look.
To get that Mediterranean look you can mix blue and black colors. You can get different new shades by mixing your favorite colors.
How to Choose a Spray Tan Color Based on Your Skin Undertones?
I have noticed that my clients often do not understand their skin's undertone which is very important for choosing the right and best spray tan or foundation for your skin.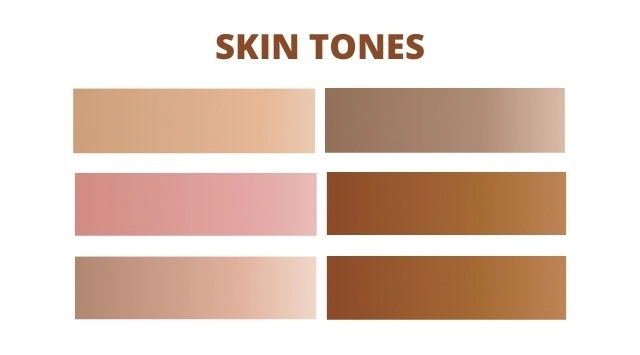 A perfect undertone can help you to get a more natural look. So, here I will let you understand the 3 different undertones.
A yellowish appearance can be noticed among people with a warm undertone.
A person with a cool undertone will have a pink or bluish-red undertone.
A grey appearance can be noticed among people with a neutral undertone.
10 Best Tanning Bed Lotions in 2023
Sunless tanning using self-tanning products can make you tan without damaging your skin.
How to Choose a Spray Tan Shade Chart Based on Different Seasons?
Choosing your spray tan color based on different seasons is very important as you will definitely not want, a too-golden look in summer.
So, here are some tips to help you choose the right shade based on the seasons.
Winter
A lighter shade should be the best option for you to get during winter so, that it matches your winter clothing.
You can go for caramel, golden, and classic tan during this period of the year.
Getting that darker sun-kissed look is quite tough to achieve during this season when the weather outside becomes too cool and frosty. You might also like: What Clothes Should You Wear After a Spray Tanning Session
Autumn
As autumn comes just before winter you can still get that glowing tan by being out.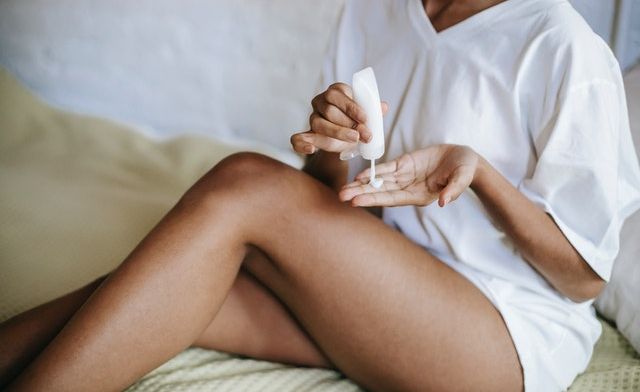 You can go for shades that are cooler than spring or summer. Caramel tones and classic tan colors can be best for this season.
Spring
Not the same as summer but you can definitely try out some darker shades during this season.
Choose colors like brown, a hint of sunset, or chocolate that match your skin tone to make your tan look more natural and glowing.
Summer
Summer is the season when you get your best tan. You can go for that dark, golden, sun-kissed look as during this period of the year the sun's rays are strongest and brightest.
You can try out shades like orange, dark ash, chocolate, or dark brown according to your skin tone during the summer season.
Will a Spray Tan Affect My Tattoos?
Can a spray tan damage your tattoo and how to prepare for a spray tan if you have body tattoos?
How to Choose a Spray Tan Shade Chart Based on DHA Percentage?
The DHA ( dihydroxyacetone) plays an important role in determining the darkest tone after a spray tan.
If the percentage of the DHA is higher then, you can easily achieve that darker spray tan color.
DHA is the most important ingredient your spray tan should contain. DHA content of 15% is best to get that dark tone.
What Are the Other Things to Look for When Choosing a Spray Tan?
By following the factors below you can get that perfect spray tan color that matches your skin tone.
Anti-aging Properties
Although DHA is an important ingredient of your spray tan too many chemicals and DHA can lead to wrinkles and early aging.
So, you need to choose products that contain anti-aging and wrinkle-free properties to prevent early aging.
Chemical-free Products
Nowadays there are several organic spray tans available in the market that are free from artificial chemicals, parabens, and alcohol.
So, I always suggest my clients choose products that contain natural DHA.
Different Fragrances
If you want to get a nice aroma and smell good then, there are different products available in the market to choose from besides, helping you to achieve that dark tan.
Use Spray Tan That Contains No Artificial Colors
Sometimes artificial colors like bronzers can be present in your spray tan.
Although the bronzer easily sits on top of the skin it fades away very fast. So, always choose spray tans that do not contain artificial colors.
Before going for a spray tan choosing the right spray tan shade chart that matches your skin tone is very important.
A classic shade or a mink with a golden glow can be best for people with medium to fair skin. To avoid a heavy tanner look avoid choosing orange-based spray tans.
Choosing the perfect shade according to different shades can also help you to achieve that long-lasting natural tan. I hope now you do not need to worry about choosing a spray tan color based on your skin tone.
So, enjoy your spray tanning session and get that perfect golden glow overnight.