We recommend everything that we review independently and the opinions expressed here are our own. We may earn a commission when you buy through our links.
Disclosure
Our summer look is not completed until we get that perfect golden glowing tan. But getting a healthy tan without causing much damage to your skin is very important. Spending too much time under the sun can cause severe damage to your skin.
So, going for a tanning bed can be a good option to get that sun-kissed look without damaging your skin. And to avoid pale skin after indoor tanning sessions you should try out different lotions available in the market. To get that gorgeous, glowing tan choosing the right lotion is important.
So, being a tanning expert here I will guide you to choose the best tanning lotion and also share my opinion on these lotions.
What Are the Types of Tanning Lotions?
Before using these lotions make sure you use the indoor lotion for the tanning bed session. There are different lotions available for outdoor or sun tanning.
Most indoor tanning lotions are of 3 types. Avoid using those that contain mineral oils. Now let's go through the types of tanning bed lotions.
Accelerator or maximizer
An accelerator tanning lotion is also known as maximize or intensifier. This lotion helps in stimulating melanin production which can give your skin that brown color.
This product works very efficiently and helps you get that dark tan overnight.
It also moisturizes your skin and can be a good option for your tanning bed session. Always perform a patch test before using the product.
Bronzer
If you want to get the deepest tan then, bronzer can be the best option. It contains ingredients that help to get a very deep tan in no time.
Always remember to check the number before buying an indoor tanning lotion. The higher the number the deeper the color. Using bronzer can stain your clothes so,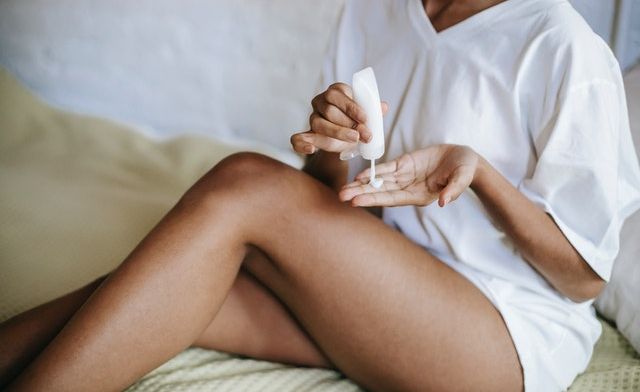 I will advise you to wear a swimsuit when using bronzer. To avoid streaks and patches it is important to apply the product evenly. Also Read: What Clothes Should You Wear After a Spray Tanning Session
Hot Action Lotions
Using hot action lotions boost melanin production to help you get a better tan. If applied properly this lotion can help you get that desired result.
People with sensitive skin should avoid this tanning lotion as it can cause redness and tingling in the skin after use.
How to Identify a Suitable Indoor Tanning Lotion Before Purchasing?
There are several indoor tanning lotions available in the market but choosing the right one can only help you get that healthy glowing tan.
Here are some tips to identify the suitable indoor tanning lotion that suits your skin.
Anti-bacterial Properties
To prevent bad odors after tanning their lotion must have anti-bacterial properties and a good fragrance.
Natural Ingredients
Your lotion must contain natural ingredients like aloe vera, natural oil, herb extracts, anti-oxidants, and vitamins to keep your skin healthy besides tanning.
Properties to Enhance the Tan
Your lotion should have tan-enhancing properties to help you to achieve that deep glowing tan. Check the label for the ingredients.
Formulation of the Product
To get the maximum result after getting exposed to the UV rays your tanning lotion must contain 95% UVA and 5% UVB.
Top tanning lotion for tanning bed 2023
Now let me share with you some best tanning bed lotions or mousse that might help you to achieve that sun-kissed healthy glowing tanned look. Being a professional I will always try to help you with the right briefing of the product.
10. Australian Gold Cheeky Brown Tanning Lotion
The Australian gold cheeky brown tanning lotion is one of my favorites and I often suggest it to my clients.
It can easily help you to get that dark tan that you have always wished for. Besides, containing a natural bronzer this lotion contains different natural ingredients like vitamins A, E, and Australian oils.
The price of this product is quite reasonable and the quality of the product is also very good. It has a pleasant cocoa vanilla scent and gets absorbed by your skin quickly.
This product will make your skin smooth with no oily residue left on the skin other than deep tanning. It prevents skin damage and provides an even-toned color.
The Australian gold cheeky brown tanning lotion can be the best option for those with fair skin. This lotion can be used for both indoor and outdoor tanning.
---
9. Brown Sugar 200x Bronzer
The brown sugar bronzer is one of the best products when it comes to getting that deepest tan.
It is prepared by mixing brown sugar with chocolate and argan oil and has a pleasant scent of coconut cream.
As it is a 200x bronzer so, you achieve that perfect glowing tan in no time. The product is paraben-free and feels like velvet when applied.
Argan oil protects and nourishes your skin. After using this product you should wash your hands immediately to prevent them from turning orange,
---
8. Designer Skin Ms. Designer Tanning Lotion
This tanning bed lotion can also be used as an outdoor tanning lotion. The designer skin elusive lotion with a 50x bronzer can be a good option for those who want that perfect dark, glowing tan.
It is a premium product that contains natural ingredients with a pleasant fragrance. This tanning bed lotion is meant for all skin types.
---
7. Designer Skin Black Lotion for Tanning Beds
This product can leave your skin with a deep and smooth tan. Designer skin black is a silicone emulsion bronzer that gets easily absorbed by your skin.
A bottle of this lotion can last for an entire season. The desired result can be seen just after one tanning session.
---
6. New Solid Black Bronzer
This is also known as the millennium tanning new solid black bronzer lotion. This 100x, 13.5-ounce tanning bed lotion can help you to get that deepest tan as it contains bronzers and silicon.
Whenever I tried the product on my clients it improved the texture of their skin by making them soft and supple.
100x bronzer accelerates darkening and helps you to get that deep tan quickly. After applying the product you will not smell any bad odor as it has a light orchid blush scent. Do not forget to wash your hands immediately after using the lotion to prevent stains.
---
5. Ed hardy's coconut kisses golden glow tanning bed lotion
Ed Hardy's coconut kisses golden glow is the perfect option for you if you want a long-lasting, sexy and dark tan.
This product doesn't have a bronzer but contains cocoa butter and melanobronze. Using this tanning lotion can easily increase melanin production thus, help you to get that deep tan quickly.
It has a very nice scent and can be used by both men and women. One of my main reason for liking this product is it gets absorbed by your skin very quickly without staining your clothes.
Cocoa butter makes your skin healthy and hydrated and the melted bronze gives you a natural, shiny tan by enhancing the tanning process. So, I will definitely recommend you all to use this product.
---
4. Australian gold JWOWW one and done intensifier
This tanning lotion is also made of Australian gold and can give you immediate results.
To increase melanin production and give you that perfect sun-kissed look it contains tyrosine. This product also contains beeswax, Shea butter, vitamins A, E, and raspberry.
These natural ingredients protect your skin from environmental damage and make your skin healthy and hydrated.
Other than using in a tanning bed this lotion can also be used outdoors. It helps you get streak-free skin and protect your tattoos.
I personally love its fresh fruity smell. It can help you achieve that desired tan just after the first session.
This Australian gold JWOWW tanning lotion lasts long and does not cause any tingling effect after use.
---
3. Devoted creations tan life tanning butter
This lotion can be a perfect choice to be used as a base tan as it does not have a bronzer.
The tan life hydrating tanning butter by the devoted creation can help you to get that dark, even tanned look overnight.
Besides giving you a natural tanned look this tanning lotion prevents your skin from damage caused by UV rays. This lotion gets easily absorbed by your skin and moisturizes the skin very well.
This is one of my favorite products and is also loved by most of my clients. This lotion by the devoted creations is a non-greasy product and does not leave any stain on your clothes and hands.
This lotion is quite cheap but, it is needed to be used a couple of times to get that deep tan.
People with sensitive skin can also use this product. It protects your tattoos from fading away and also prevents signs of aging.
---
2. Paint it black auto-darkening 50x tanning lotion
This product can also be used indoors with tanning beds and outdoors under the sun.
This millennium tanning product contains a silicone blend to make your skin soft and smooth after getting tan. The clean cotton blossom scent makes you feel fresh all day.
Although this product can be used on all skin types it is the best option for those with fair skin.
My clients with fair skin love to use this product as it makes their skin dark and conditioned all day with no tingling.
---
1. Just nutritive natural tanning bed lotion
When it comes to skin products I always prefer using natural products. And just nutritive indoor tanning lotion is 100% natural.
It does not contain any chemical or artificial fragrance so, it keeps your skin healthy and moisturized.
This lotion can be used by people with sensitive skin as it does not have bronzer. Also Read: Homemade Natural Self-Tanning Lotion for Glowing Fake Tan
The consistency of the lotion is quite thick to ensure 24 hours moisturization of your skin besides tanning. The lotion has a good smell of coffee and is very easy to use.
---
Tips to Remember
Use the right amount of lotion and do not spend too much time in the tanning bed as it can burn your skin.
Try to use products from reputed companies as they contain advanced tanning technology. Luxury products can often be expensive but you will not love to damage your skin by using cheap products.
This lotion is used to protect your skin in a tanning bed so, do not overuse it.
---
How to Choose the best tanning lotion?
Before going for your tanning session you need to choose the tanning lotion that suits best your skin. Here are some useful tips to identify the best lotion.
Maximizer and Accelerator
Most tanning lotions are classified as maximize and accelerator.
Maximizers can help you get that dark tan and can also be used as a base tan. But they do not moisturize your skin as the accelerator does. To provide you with the desired result quickly most maximizers have bronzers.
On the other hand, accelerators increase your natural melanin production and thus help you to achieve that darkest tan by nourishing your skin.
Skin sensitivity
Always go for a lotion according to your skin's sensitivity and type. Spending too much time in a tanning bed can burn your skin and make it dry.
may also notice wrinkles and fine lines if proper care is not taken. All indoor tanning lotions do not contain anti-aging properties to protect and nourish your skin.
So, I always advise my clients to perform a patch test before using any product. Sometimes people come up to me and complain that they have got a painful, prickly sensation after using some tanning lotions. The excess scent of the product can also lead to an uncomfortable sensation.
The intensity of the lotion
Not all tanning bed lotions can help you to get that darkest tan. So, you need to check the number on the bottle. As mentioned earlier higher the number deeper the tan you get.
Over-intensity of the product can cause staining. So, you need to adjust the level the intensity of the product to get the color you want for your skin.
Frequently Asked Questions​
What tanning beds gets you tan the fastest?

To get tan 5 to 10 times faster you can go for the alpha deluxe KBL 7900 and the instant HP level beds.

What tanning bed lotion gets you the darkest?

The solid black by millennium tanning contains features like auto-darkening tan technology and powerful silicone bronzers to help you get that deepest tan overnight.

Can you tan in a tanning bed without using lotion?

You can definitely tan in a tanning bed without using any tanning lotion. But your skin can get damaged due to direct exposure to the UV rays in a tanning bed session. This can also lead to skin burns and premature aging.
Take Away
Tanning is fun if you follow some rules and take proper care of your skin before and after getting tan. Using a tanning bed is the quickest way to get tan without causing much damage to your skin.
Using these indoor lotions before your tanning bed session can help you to achieve that healthy, glowing, and deepest tan easily. Always choose the right product that suits your skin and go for reputed and premium products.
This article was about my personal experience with some best tanning bed lotions available on the market.
Now choose and use the right lotion that suits your skin and share your experience.