Getting a fit and toned body is not very easy and one has to work hard a lot and visit gyms regularly to achieve this. A healthy body without excess fat enhances our looks and makes us more attractive. However, if we get a chance to get fit and perfectly tanned bodies together then, nothing can be better than that.
As we all are quite busy nowadays and don't get much time to spend on taking care of our body and skin so, getting both of them under one roof can be a boon for us. Most of my clients ask me to suggest a few gyms with sunbeds so, that they can get both done in one place.
Some of us love to spend time in the sun during those warm sunny days and get tan. However, if the sun's rays do not reach every part of our body then, we will get an uneven tan that does not look good.
Tanning beds can be a better option to get that dark, even tan quickly without spending much time outdoors. Some of the well-known gyms in the US also have tanning beds so, that you can easily lose weight and get a healthy toned body with that perfect tanned skin.
It becomes easier when you are already aware of gyms that provide tanning services so, that you can book your appointment today. Go through this post thoroughly to get detailed information about some best gyms with tanning beds.
Which Well-known Gyms Have Tanning Beds?
Tanning beds can help you get tan at any time of the year even when the sun is not out during those cold winter days. Going to the gym and working out has become a part of our daily life. So, if we find a gym with tanning beds then, it becomes easier for us to get both of them done together.
It is also not necessary that whenever you visit the gym you have to use tanning beds. You can use the tanning beds whenever you want to get tan.
So, being a tanning expert and after visiting most of the big box gyms in the US here I will share with you some best gyms with tanning beds. You can easily contact one of them today to make your skin and body more beautiful.
Planet Fitness
Although Planet Fitness is a big name and, they are among the most affordable gyms in the US. You may be surprised to know that you can get service at planet fitness even within 10 dollars.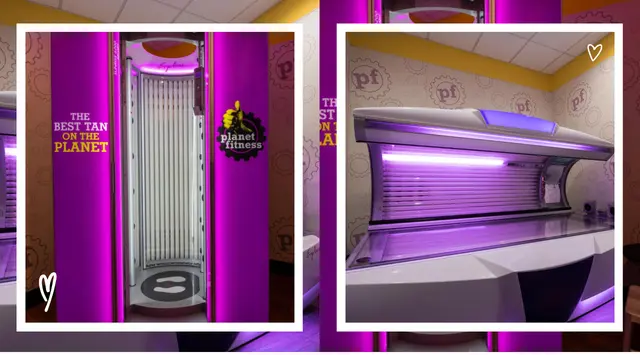 Besides being a gym with different cardio and weight training equipment they also have other facilities like hydro massage chairs, total body enhancement beds, and tanning beds.
To get access to all of these you need would need to get their black card membership. Although a black card membership can cost you a bit more than a basic membership, it is cheaper than other big gyms.
Bodybuilders and advanced-level lifters may not prefer to visit planet fitness as they might not get the desired result but, people like us who want to get a healthy and fit body will love to visit them.
A black card membership not only gives you access to use a tanning bed and other equipment at the gym but, also makes you eligible to get discounts on beverages and other products sold at the gym.
To get more detailed information about planet fitness clubs check out my article on planet fitness tanning bed levels.
Golds Gym
Golds gym also allows its members to use sunbeds beside, the gym. You can get that dark glowing tan with a fit body in one place.
The only drawback of the golds gym is that they are available at a few locations. They allow their new members to get a free pass. So, you can go for the free trial at your local gold gym to make sure their tanning beds can help you achieve that desired tan.
Anytime Fitness
Not all Anytime Fitness clubs have both gym and tanning services together. There are a few anytime fitness clubs that offer both these services under one roof.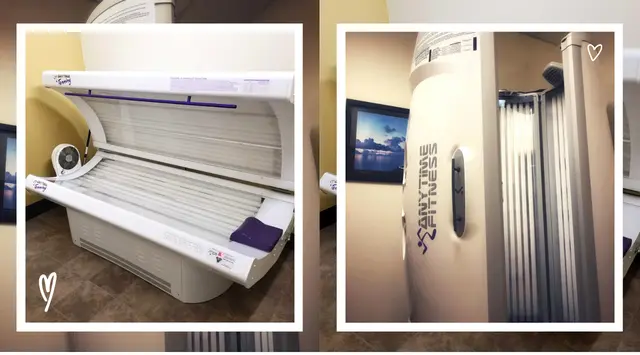 Most of their clubs have one or two tanning beds. So, if you are planning to visit one of them for getting tanning services along with a gym then, make sure you make a prior appointment.
As all of the anytime fitness clubs does provide both services together booking your slot before visiting them is a good idea. You can call their reception desk and book a slot according to your convenience.
The cost of getting their membership depends on their location and the services they want. So, if you want to avail tanning services besides monthly gym then, you may have to pay anything between $27.50 to $29.50.
Snap Fitness
Snap Fitness is one of the most well-known and big named gyms in the US. So, getting their membership can cost you around $50 and an extra $15 if you want to avail their tanning services.
They have a wide collection of equipment, professional trainers, and nutrition consultant to help you get better all-around health. They are open 24/7 so, you can make an appointment or visit your nearest Snap fitness club anytime you want.
If you have any other queries about the snap fitness club then, you can go through my post on Does snap fitness have tanning beds?
YMCA
YMCA is quite popular and is available in different locations. Their cost, facilities, and amenities depend mainly on their location. So, some of them provide tanning services and have sunbeds, basketball courts, swimming pools, and hot tubs while others don't.
The cost of tanning beds is included in some of their gyms along with the annual membership fees whereas extra charges are taken for using tanning beds in some of their locations.
YMCA gyms are quite cheap than any other well-known gyms. So, if you want to get both services done at one place then, you can visit your nearest YMCA and collect more information about their services.
10 Best Tanning Bed Lotions in 2023
Sunless tanning using self-tanning products can make you tan without damaging your skin.
Gyms With No Tanning Beds
Nowadays most popular gyms provide tanning services so, that their clients can get both done under one roof and save time. However, different gyms have different opinions on having both gym and tanning beds together.
There are also many well-known gyms that do not want to provide tanning services as they focus on their clients who do not want to work out with tanning beds.
Here are some of the big gym chains that do not provide tanning services along with workouts. Some gyms without tanning beds are
Final Thought
I hope this post will be helpful for those who are searching for good gyms with tanning beds. If a workout is your priority then, you should check the equipment available in a gym before joining.
Although using tanning beds can give you that instant glowing tan but using it frequently is not good for your health and skin. So, if you are looking for a good gym that provides tanning services and is affordable then, you can visit planet fitness. They provide the best services and are quite cheaper than any other gym.