Besides, being a gym planet fitness is also a good option for tanning. So, if you have a planet fitness black card membership then, you can easily avail all of these facilities.
They offer services at cheap prices to their members and thus, it is a great place to avail facilities like a gym and tanning. They have modern tanning beds that can help you to get that desired tan.
So, here I will share with you some details on the planet fitness tanning bed levels so, that you can get that glowing bronzed look according to your wish.
What Are the Tanning Bed Levels Planet Fitness Have?
The levels of the tanning beds mostly depend on their locations and are not listed on their website. However, most planet fitness has 3 to 4 possible levels.
You need to have a planet fitness Black Card Membership so that you can use it at any of their locations to get access to these tanning beds. Many of their locations only have level 2 stand-up tanning beds.
What Tanning Bed Laying Position Is Best
Here are some perfect positions shared below that you should follow in a tanning bed to achieve that dark, even tan.
What Do You Mean by Tanning Bed Levels?
The level of tan you can achieve after using the different levels of tanning beds is referred to as tanning bed levels. Mostly there are 3 levels and the color of your tan depends on these levels.
You can use the level 1 tanning beds for long hours as it uses low-pressure bulbs. Be careful as the high UVB rays produced by these tanning beds can cause severe damage to your skin.
Level 2 tanning beds have special lamps to tan your arm and face like the rest of your body. These tanning beds have some features similar to level 1 tanning beds. Medium-pressure bulbs or a large number of low-pressure bulbs are used in level 2 tanning beds.
To help you get that dark tan faster level 3 tanning beds contain a lot of higher-pressure bulbs. So, people who do not have much time to spend on tanning can use the level 3 tanning beds to get tan faster.
Here, are some details on the planet fitness tanning bed levels.
The level 1 tanning beds can be used for long hours to get tan and they are quite reasonable.
However, overexposure to UVB rays can cause skin damage and redness. The level 1 tanning bed can be a great choice for those to love to spend long hours in tanning beds to get tan.
To get that perfect tan you need to use the level 1 tanning beds several times. So, if you are planning for a vacation then, getting tan using this tanning bed can be a good idea.
Besides, tanning other parts of your body a level 2 tanning bed is also used to tan your arm and face. These beds contain special lights that can be used in tanning your arm and face properly.
Level 2 tanning beds may contain more than 35 lamps. There can be a large number of low-pressure bulbs or medium-pressure bulbs.
To help you get that tan dark tan quickly some of these level 2 tanning beds may have more than 55 bulbs as well.
Using these tanning beds can save you time and help you get that dark desired tan in no time.
3 and 4 Tanning Bed Levels
The level 3 and 4 planet fitness tanning beds have lower levels of UVB rays and higher levels of UVA rays to help you get that long-lasting tan faster.
You do not have to use these tanning beds frequently as the tan will last almost a month.
Often people who are using level 1 and 2 tanning beds need a touch-up throughout the week.
However, people who are using planet fitness level 3 and 4 tanning beds can just visit once in 2weeks to get a touch-up.
What Kind of Tanning Equipment Are Used by Planet Fitness?
Different equipment is available at planet fitness to provide up-to-date service to their black card members.
Planet Fitness Tanning Equipment
Planet fitness has new technology level 2
stand-up tanning booths
so, that users can get that even tan easily. You just need to stand up straight during the entire tanning session so, that all your body parts get tan equally.
Other than the tanning beds planet fitness offers other equipment like massage chairs to their members. Those with membership cards can get other privileges like complimentary t-shirts, cooler beverages, and free access to all other planet fitness franchises.
The level 2 stand-up tanning booths use powerful bulbs of 160watts. These
bulbs
produce higher UV rays, which can be the best option for those who want to get that even dark tan in a short time. Conventional tanning beds with bulbs of 100 watts can also be quite effective.
Can You Visit Planet Fitness Just to Get a Tan?
For using tanning beds to get tan you need to have a planet fitness membership card. However, those who are new cannot avail of these tanning facilities.
To get a tan using tanning beds in planet fitness you need to upgrade your membership card to the black card category.
Besides, tanning you can use other facilities provided by planet fitness if you upgrade to the black card tier.
However, if you just want to use planet fitness for tanning purposes, it is better to go to any other tanning salon near you.
After all, why should you spend a huge amount to get a planet fitness black membership card just to get tan?
10 Best Tanning Bed Lotions in 2023
Get a beautiful, natural-looking tan with the best indoor tanning bed lotions.
How Much Can a PF Black Membership Card Cost You?
The price of different planet fitness membership cards varies and mostly depends on their location. These cards are quite affordable and you can avail of several other services besides tanning like free access to the gym and massage chair by getting these membership cards.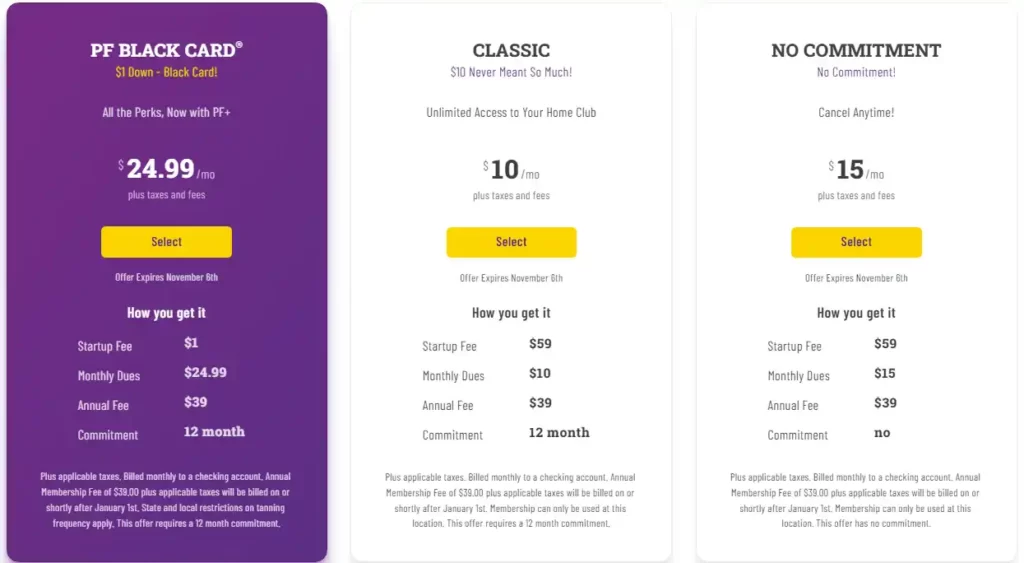 To get more information about the price of the membership cards you can go to their membership page and select a home club.
The planet fitness black membership card mostly comes with $22.99 monthly dues, $1 enrollment, a $39 annual fee, and NO commitment.
Final Words
Besides tanning beds, planet fitness is known for having other equipment like a gym, massage chairs, and other beauty and wellness-related devices.
So, if you have their black membership card then, you can easily avail of these privileges besides tanning. You can also get free access to any of their franchises by using these membership cards.
So, why wait to visit one of the Planet fitness today and make yourself look gorgeous from head to toe?