We recommend everything that we review independently and the opinions expressed here are our own. We may earn a commission when you buy through our links.
Disclosure
Pregnancy is the most wonderful phase in a woman's life. However, it is also crucial for her to maintain the utmost safety for herself and the baby. It is also very important to keep herself happy during this period, so do whatever makes you relaxed and satisfied.
A body of a woman changes drastically during this time, and it is quite obvious. So, some women love to maintain a proper beauty regime to keep their skin and bodies healthy and beautiful. Getting a tan is one among them, and most women love to get that glowing bronzed look while pregnant.
Tanning during pregnancy is not very easy, as you have a huge belly during this time. Tanning the front side of your body can be easily done while using tanning beds or sunbathing. However, getting the back portion tan can be quite difficult when pregnant. As you cannot put weight on your belly when you are pregnant so, lying on your stomach to get a tan is not possible.
My clients who are pregnant often ask me to suggest a few safe ways to tan their backs while pregnancy. So, here in this article, I will share some useful information that pregnant women should follow to tan their backside during pregnancy.
What Are the Challenges and Risks a Woman Faces While Tanning During Pregnancy?
There is a huge change in hormone levels when a woman is pregnant. During this time, the levels of the hormone estrogen increase, which leads to dark patches or melasma on the skin. After the baby is born, this darkening of the skin fades away. However, it may lead to age spots if proper care is not been taken.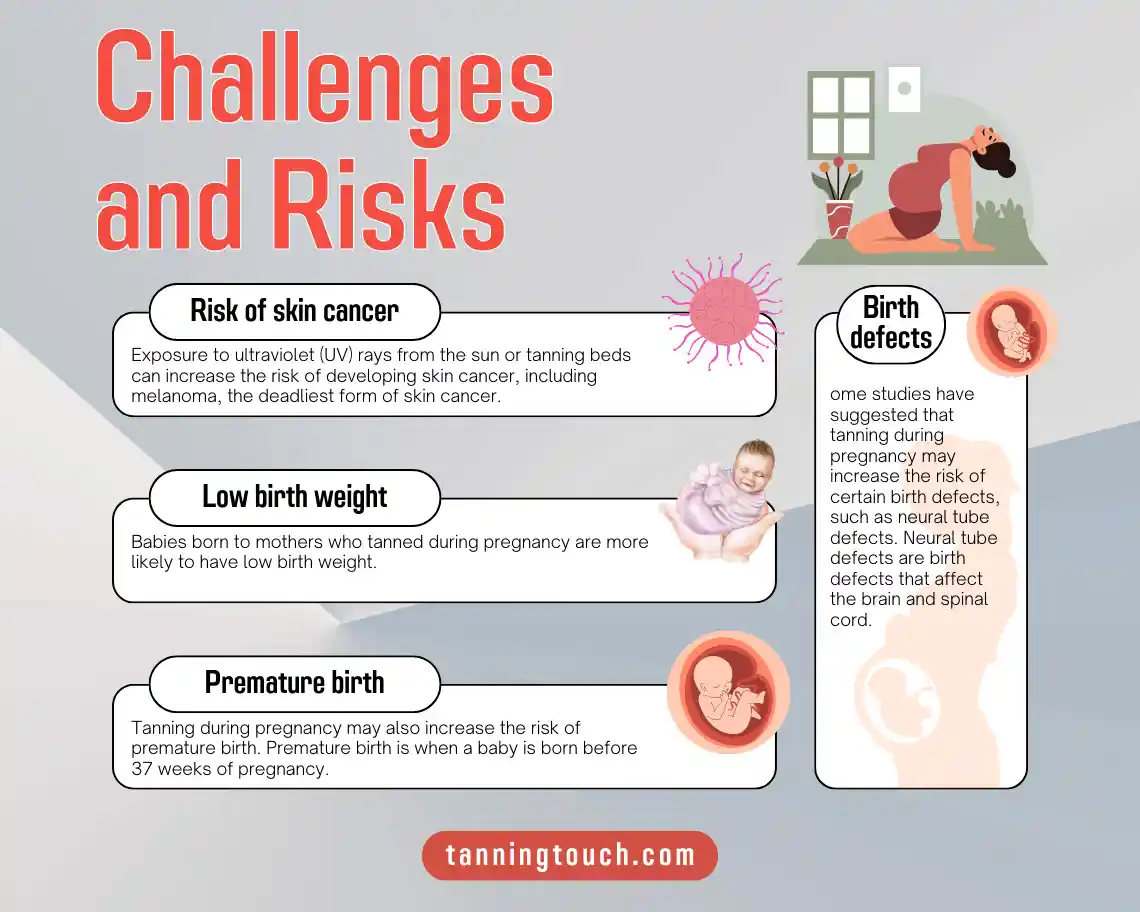 So, the fact is your skin becomes super sensitive during pregnancy and, thus, can get sunburned easily while sunbathing. Also, it is very important to take proper protection before being exposed to UV rays while pregnant.
A fetal temperature is always higher than a mother's body temperature, so going out in the sun or using tanning beds during pregnancy can be harmful. Being exposed to UV rays may lead to overheating, which can be dangerous for the mother and the baby.
Safe Ways to Tan Your Back While Pregnancy
Here, are the 3 best and safest ways to tan your back while pregnant. Follow them before going for your next tanning session.
How to Tan Yourself During Pregnancy by Using a Mirror and a Back Self-tan Applicator?
It is one of the safest methods that pregnant women should follow to get that gorgeous, glowing tan. Follow the steps shared below to get tan without getting help from anyone.
Remove Any Obstacles
Make sure your room is free from any obstacles so that you can move around safely. To see your back clearly, you will need a large mirror.
Moisturize and Exfoliate
Exfoliating your skin is very important before using any self-tanning products to get that smooth and even tan. Also, use a light moisturizer on your back to avoid patches and an uneven tan.
Apply the Self-tanner After Assembling
The tan applicator is available in different designs. Some may have a rope-like or a band-aid design, whereas others may come with a sturdy handle and a mitt or a sponge attachment at the end. So, you need to assemble them properly before using them.
After assembling, it's time to apply the tanner using the applicator. Take an adequate amount of tanner and apply it evenly on your back. To prevent an uneven and patchy tan, always use a small amount at first and then, take more if needed.
Start the Application Process
Your mirror should be positioned in such a way so, that you can see your entire back. Hold, the handle of the tanning applicator to tan your back easily. The sponge or the mitt should reach every part of your back properly to get that even coverage.
Always go slow during this process so, that you do not miss any spots. To get that smooth tan without ugly patches, start from the top and work your way down gently.
Blend the Tanner and Check Out for Missed Spots
To prevent any demarcation or tan lines, always blend the self-tanner very well into your skin. Use circular motions to get that natural-looking tan.
After the application is completed, you need to check out for any missed areas, especially along the shoulders, sides of your back, and neckline. Reapply or touch up these areas using a small amount of tanner.
Let the Tanner Dry Out Completely
After the application is done, you need to allow the self-tanner to dry. Your self-tanner should be dried out completely before wearing your dress to prevent uneven tanning.
Use a Safe Product
During pregnancy, your and your baby's health should be your top priorities. So, always use a safe and good quality product. Take a patch test before applying the self-tanner all over your body.
If you face any issues after using a self-tanning product, then consult your doctor immediately.
How to Tan Your Back Using a Stand-up Spray Tan Booth When Pregnant?
Necessary precautions should be taken before using a stand-up spray tan booth during pregnancy. Tanning safely should be your priority during this time, and you need to make sure it does not harm you and your baby in the womb. Consult with your gynecologist before the tanning session.
However, If you want to get tanned using a tanning booth while pregnant, then follow the tips shared below to get that perfect and safe tan.
Visit a Reputed Salon
Some people may have spray tan booths at home. But, when you are pregnant and want to get that sun-kissed look by using a tanning booth then, it is best to visit a reputed tanning salon near you.
These salons maintain high hygiene standards and provide pregnancy-friendly services, so, they can help you get your back tan safely.
Talk to Your Healthcare Provider
Pregnancy is a crucial phase in a woman's life. So, you need to consult your healthcare provider before trying out anything related to your skin and body.
As every woman is different and goes through different challenges during this time so, discussing this with your doctor is necessary before tanning.
Go for That Perfect Tanning Solution
Tanning solutions meant for sensitive skin are often mild and free of allergens and harsh chemicals. So, pregnant women should use self-tanners meant for sensitive skin to get tanned safely without causing any harm to the baby.
Exfoliate and Cover Sensitive Areas
To remove the dead skin cells, you need to exfoliate your back gently before the tanning session. This will help you to achieve a smooth, even tan.
Also cover up the sensitive areas like genitals, nipples, and belly buttons using cotton pads, clothes, or disposable adhesive nipple covers. These areas should not come into direct contact with the tanner while getting tanned.
Follow the instructions at the Salon and Position Yourself
Once you visit a tanning salon, the staff will arrange the spray tan booth for you. They will also guide you regarding timing, tanning technique, and the best position for you.
Position yourself properly after entering the booth so, that your back portion gets an even coverage. To keep yourself stable, hold the handles present there. Your back should be facing the spray nozzles to get that dark, even tan without patches.
Understand the Spray Tanning Process
The spray nozzles will release tanning solutions automatically when you are inside the booth. The timing of your tanning session will be decided by the staff at the salon so, that you get that natural-looking tan.
Drying Process
At tanning salons, they have built-in drying features, to make your spray tan dry out faster. Avoid wearing tight-fitted clothes just after the tanning session to prevent the color from rubbing off.
Aftercare and Touch-ups
The staff at the salon will inform you about the aftercare before you leave the salon. They may ask you to apply a moisturizer that is safe to use during pregnancy to make the color last longer and to keep your skin hydrated.
To prevent your tan from getting fade away, faster touch-up sessions may be required.
How Do I Sunbathe Using a Pregnancy Bed?
It is not a very good idea to go out in the sun during pregnancy to get a tan. As the body temperature of a woman increases during this time so, being exposed to UV rays for a longer period can be harmful for the mother and the baby to be born.
However, if any pregnant woman wants to go out in the sun for some time to tan her back, then, using a pregnancy bed can provide them with the ultimate support and comfort.
Here are a few steps you can follow before using a pregnancy bed to tan your back.
Choose the Right Pregnancy Bed
Your Baby bump can be a matter of concern when you want to lay on your back to get tanned. So, You should always buy a product that supports your baby bump and decompresses the lower back.
There are various beds available on the market and online. So, get one that comes with a leg decline section and a comfortable bump pregnancy pillow.
Make Sure the Location is Safe
Choosing the right and safe location is very important when you want to sunbathe during pregnancy. As the temperature f your body increases during this time so, avoid places with direct and excessive heat.
Always choose a well-ventilated area and consult your doctor before the tanning session.
Prepare the Tanning Area and Set Up the Bed
Positioning the pregnancy bed properly is necessary so, that a pregnant woman with a baby bump can lay on it comfortably. Always place the pregnancy bed on a comfortable surface and make sure it is stable.
As hygiene should be your priority while getting tanned using a pregnancy bed so, always place a sheet or a towel over the bed before lying on it.
This will keep your pregnancy bed clean and protect your skin from any irritation and damage.
Using Sunscreen is a Must
Using a good broad-spectrum sunscreen with a higher SPF is always recommended when your body is exposed to strong UV rays while tanning.
Go for a pregnancy-safe sunscreen when pregnant, as it does not contain additives or any harmful chemicals. So these sunscreens can be a safe option for the mother and the baby.
Adjust Your Belly Position
While lying on a pregnancy bed to tan your back, make sure your baby bump gets properly adjusted into the belly rim support. Position your belly in such a way that you feel comfortable and safe when lying on the bed.
Limited Exposure and Staying Away From Overheating
Getting a tan during pregnancy can be a tough job. As your body temperature increases naturally during this time so, you should drink plenty of water, take a break in between the tanning sessions, and make sure you are in an area with proper ventilation.
You should also avoid longer tanning sessions and always try to cut them short. During pregnancy, the skin of a woman becomes more sensitive, so, overexposure to UV rays can cause severe burns to the skin. Stay away from sunbathing when the sun's rays are too intense.
Any Discomfort Should Be Taken Into Consideration
Your health should be your priority when pregnant. So if you notice any changes in your body, like skin irritation or discomfort, then immediately stop tanning and consult your doctor.
Always talk to your healthcare provider before going for a tanning session during pregnancy.
Final Thought
Although getting tanned enhances your look and makes you more gorgeous, you need to be very careful while tanning during pregnancy. It is not very difficult to tan other parts of your body even when pregnant, however, getting your back tanned can be quite challenging.
I hope the above-mentioned tips will help you tan your back safely when pregnant. As your health should be your priority over looking beautiful during this period so, you should only go for tanning if you feel safe and comfortable.
Lying in the wrong position and being overexposed to UV rays can be harmful to you and your baby. So, always consult your healthcare provider before going for a tanning session.
Stop tanning immediately if you feel any discomfort. Don't worry much about looking beautiful, and enjoy your pregnancy safely.
FAQs
Can I Tan My Belly When Pregnant?
Getting a tan during pregnancy is not always harmful to your baby. If you spend a few hours in the sun and follow the instructions given by a tanning expert or your health care provider, you can easily tan any part of your body, including your belly.
However, being exposed to UV rays for long periods or using self-tanning products that contain chemicals is not very safe during this time. The risk of using tanning beds or being exposed to the sun for longer periods is almost the same.
Can I Sunbathe on My Back While Pregnant?
The body temperature of a woman increases naturally, and their skin becomes more sensitive during pregnancy. So, being exposed to UV rays for a long time can cause burns and skin damage easily. Always use good sunscreen with higher spf whenever you go for your tanning session during pregnancy.