We recommend everything that we review independently and the opinions expressed here are our own. We may earn a commission when you buy through our links.
Disclosure
Tanning beds can work as a wonder to help you get that dark, bronzed look without going out in the sun. However, people often think that besides tanning using tanning beds can brighten and whiten their teeth.
It is very common that if your skin color turns out to be darker then, your teeth will appear to be whiter. So, getting whiter teeth in tanning beds is just a misconception.
The UV light produced while getting tan using a tanning bed can give you that gorgeous golden, glowing color but cannot whiten your teeth.
Instead, the UV rays are not very good for your teeth and can damage the quality and color of your teeth.
So, when my clients ask me about the same, I just tell them that tanning beds can never brighten or whiten their teeth.
If you want to get whiter teeth then, just make your teeth get exposed to LED lights.
That Smile…
These lights prevent discoloration and enhance the effects of hydrogen peroxide when used on your teeth.
Applying these lights is considered to be the safest and most effective way of making your teeth whiter and brighter.
In this article, I will share with you some incredible teeth-whitening products that you can try out to make your teeth whiter. I will also let you know how to protect your teeth from damage in the tanning bed.
Can You Whiten Your Teeth in a Tanning Bed?
As mentioned above tanning beds produce UV rays that are effective in tanning your skin and hair but, they cannot whiten your teeth. You can only make your teeth whiter by using a teeth whitening agent.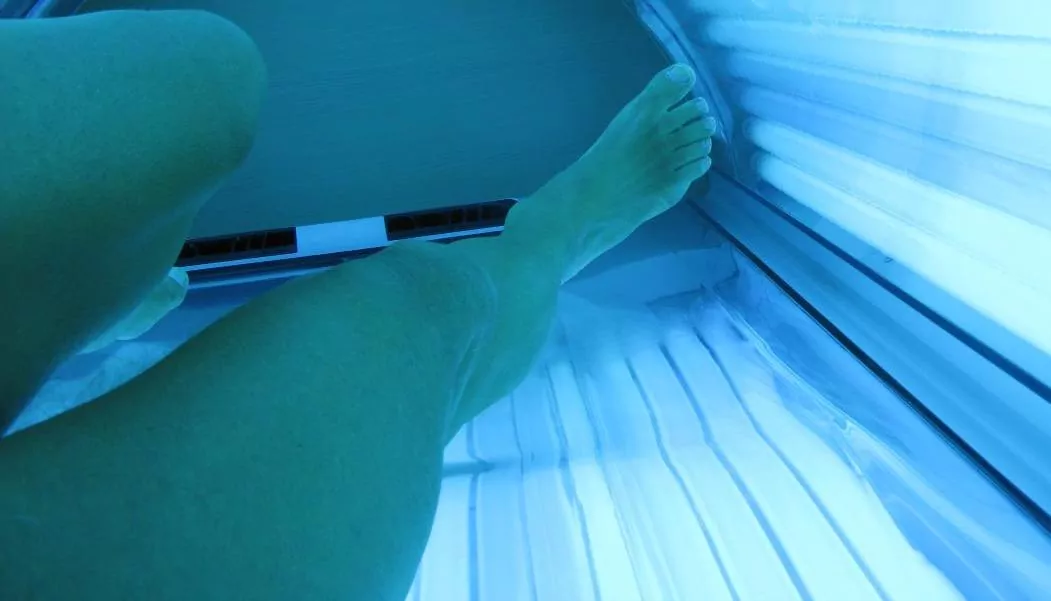 How to Get Tan Faster With a Tanning Bed
We will share with you how to get tan faster in a tanning bed and get that perfect tanned look.
Although some teeth whitening kits and gels use UV rays to lighten your teeth, the UV rays just accelerate the oxidation of the whitening gels and thus, make your teeth whiter.
Can Whitening Strips Be Worn on a Tanning Bed?
Tanning your body in a tanning bed and whitening your teeth following the teeth whitening regime separately can lead to a waste of time and energy.
So, people often want to get both together. This is only possible by using whitening kits while getting tan in a tanning bed.
Today teeth whitening market is quite popular among people as they make teeth whitening kits that can be used in a tanning bed to whiten your teeth.
You can apply the hydrogen-peroxide-based whitening gel included in these kits before going for your tanning bed session.
You will notice the visible result as soon as the whitening gel gets exposed to UV rays. It will make your teeth lighter and brighter.
Teeth Whitening Products for Tanning Bed Use
The recent advancement in teeth whitening products can help you get brighter and whiter teeth even after your tanning bed sessions. To make the teeth whitening gels work properly teeth whitening lights are used.
To get the brighter shade using these kits visit your nearest tanning salon. You can also use these teeth whitening kits at home to make your teeth whiter. But, the result may vary as the work done by a professional will always have a perfect finish.
There are several effective products available online nowadays like the twilight teeth. These products are quite powerful and last long if used properly.
One sitting is considered to be 20 minutes. So your teeth will be 5 to 10 levels brighter just after one sitting.
Here are some of the best and most effective teeth-whitening lights that work along with the whitening gels to make your teeth whiter.
Twilight Teeth Whitening Kit
This teeth whitening kit is designed in such a way that you can easily use it at home by yourself.
It is a gel-based product that gets absorbed by your teeth very fast to make them whiter in a tanning bed. It is a mint-flavored no-rinse gel that will leave you with a brighter smile.
This whitening kit comes with a UV light mouthpiece or a mouth guard that you can use if you do not have time to follow the teeth whitening regime regularly.
This kit comes with 12 different applications and using the twilight teeth whitening kit once can make your teeth stay whiter for up to six months.
Crest 3d Whitestrips, Professional Effects, Teeth Whitening Strip Kits
These 3d teeth-whitening white strips have advanced seal technologies and no-slip grip stays. So, that while whitening your teeth you can drink water and even talk. To make your teeth whiter just use it for half an hour a day.
By using this teeth whitening kit you will notice a professional-level result that will make you more than happy.
A year of stains can just be removed by using these whitening strips for one hour. These strips can even remove fourteen years of teeth stains leaving you with a brighter smile.
How Can You Protect Your Teeth From Damage in a Tanning Bed?
Tanning beds not only cause damage to your teeth but also your gums. Damage to your teeth can build up over time but, damage to your gums can be a matter of concern.
Your gums are exposed when you are tanning with your mouth open in a tanning bed.
So, your gums can easily get burnt and blisters can form when exposed to UV rays. To prevent your gums from damage always keep your mouth close throughout the entire session when using a tanning bed.
Also, avoid using teeth whitening kits that are not meant to be used in UV lights to protect your teeth from getting damaged.
Your teeth can be damaged permanently if conventional whitening strips are used while tanning. Only use the whitening strips to get tan at home.
Take Away
Most of the time after getting tan our teeth look whiter due to the contrast between the shades.
Also, the teeth of people with dark complexion look brighter because of the color of their skin. But, this is a complete illusion and the fact is using a tanning bed does not make your teeth whiter.
You can make your teeth whiter and brighter by using the teeth whitening kits shared above. These products are quite popular and easily available on amazon so, are loved by most people.
So, get one of them today and make yourself look more gorgeous with the glowing, bronzed look and those whiter teeth.