We recommend everything that we review independently and the opinions expressed here are our own. We may earn a commission when you buy through our links.
Disclosure
Nowadays, most women consider spray tanning on their wedding day. As the wedding day is the happiest and most memorable day for all couples so, it is obvious that they will want to look like the most beautiful person in the world.
Wedding ceremonies come with a hectic schedule as couples have to go through different rituals and don't get much time to go for a long tanning session. So, a spray tan can be the best option for them during that time.
Getting a glowing, flawless spray and that beautiful gown can make them the show-stopper on their special day.
Spray tanning is one of the easiest ways to get tan without worrying much about streaks and stains.
My clients who are going to get married and are preparing themselves for that extra special day often ask me how long before the wedding should I get a spray tan.
So, here in this article, I will share the answer to their queries so, that all women who are going to be brides soon can follow the tips to get that dark bronzed look.
How Should You Get Prepared?
If you are planning to visit a salon to get your spray tan done then, do remember to shave, wax, or exfoliate 24 to 48 hours prior to your appointment.
Gently exfoliate your skin, especially areas like your ankles, knees, and elbows which are quite dry than other body parts.
A gentle scrub and an exfoliating mitt can help you with the same. Do remember not to shave, wax or exfoliate just before getting the spray tan done. There should always be a gap of a day or two.
I suggest my clients not go for a spray tanning session wearing any makeup, perfume, or lotions.
Using these products can restrict the application and you may get an uneven tan. If you have very dry skin then, just use a small amount of moisturizer on dry areas like your knees, feet, and elbows.
How Long Before the Wedding Should You Get a Tan?
After getting a spray tan it needs some time for the color to develop. So, I suggest my clients get it done at least 2 days before the special day.
Getting your spray tan beforehand can also help you to cover up any uneven tan if formed while tanning.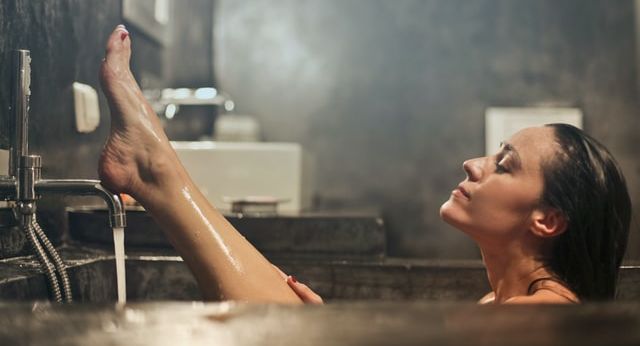 How Long Should You Wait to Shower After Tanning?
In this article we will share with you how long should you wait to shower after tanning.
To make your tan look even and glowing you can use exfoliating techniques. Getting a spray tan 2 days before the big day also allows you to take shower to remove the bronzer and get ready for your wedding day with that picture-perfect, even, glowing look.
Never use a self-tanner and go for a spray tanning session on the day of your wedding as it will ruin your look completely.
Should You Tan Your Face?
Women who are going to be brides very soon often ask me if should they tan their face with the rest of their body. So, I tell them to use salon solutions for their face to get that perfect tan.
However, some people have very sensitive skin and these solutions should be avoided by them to prevent any side effects on their special day.
check out this article to get the correct answer to your queries like why won't my face tan as the rest of the body?
People with sensitive skin can just use a good foundation that matches their body's tan color.
There are several self-tanning products available for different skin types like the Bondi-sands self-tanning face products.
You can easily get one of these non-comedogenic products meant for sensitive skin from amazon.
Can Your Spray Tan Stain Your Dress?
If you get your spray tan done 2 days before the wedding day and have taken shower at least two times then, be relaxed as it will not stain your clothes.
Taking shower will remove the bronzer from your skin thus, to avoid any kind of unfavorable situation it is always suggested to go for a spray tanning session 48 hours before the big day.
Take Away
All brides look differently beautiful on their wedding day. However, getting a spray tan can enhance their look and make them look as gorgeous as they might have dreamt of.
So, this post is for all women out there who are preparing for one of the special days of their life.
Follow the tips shared above thoroughly and surprise your man with that stunning and unforgettable look.