To get a tan quickly before vacation, a spray tan can be the best choice. You can go for a spray tan before heading to the beach or on a tropical vacation.
Spray tans are the safest, easiest, and quickest way to get that perfect bronzed look before vacation.
Although people often go for tanning beds to get tan quickly tanning beds are not the healthiest option and can cause several skin problems.
In this article, we will discuss the benefits of spray tanning prior to the vacation and ways to maintain your spray tan throughout your vacation.
Go for Spray Tanning Before a Vacation
To look gorgeous with that perfect tanned look spray tanning before vacation can be a wonderful idea. Let us find out some other reasons behind getting tan prior to vacation.
By getting a spray tan prior to vacation you can get that perfect bronzed look even before stepping off the plane.
You will not need to go out in the sun to get yourself tan and harm your skin.
Your spray tan technician can help you to get that even tanned look covering the spots on your skin that do not look nice.
You can save time from getting tan in the sun during vacation and can enjoy your vacation by spending time on other activities.
Though sun tanning can be quite relaxing but not using proper tanning techniques can harm your skin. So, spray tanning can be the best option in that case.
Advantages of Getting Spray Tan Before Vacation
Spray tanning can be the safest way of getting tan without being exposed to the harmful ultraviolet rays of the sun.
There are several advantages of getting a spray tan prior to vacation. Let us discuss some of the benefits.
Keeps Your Skin Healthy
By getting a spray tan before vacation you can easily get a glowing tanned look without getting exposed to the harmful UV rays of the sun.
Excess exposure to the sun can cause premature signs of aging, sunspots, and skin cancer.
You can sit out in the sun after getting a spray tan. Do not forget to use sunscreen to prevent skin burns.
Spray Tanning Saves Time
Spray tanning can save you time as it takes around 15 to 20 minutes to get a tan using a spray tan.
So, you can easily get that beautiful tanned look prior to hopping on the plane.
The time saved can be spent on other important work like packing, and booking the flight and hotels before going on a vacation.
Makes You Feel Good
Besides boosting your confidence get a spray tan. can make you feel good. And we all want to feel satisfied and good on a vacation.
(Comprehensive Guide) A Complete Guide to Choose the Perfect Spray Tan Shade
Tips to Get Prepared for a Spray Tan Before Vacation
By following the tips below you can prepare yourself to get a tan prior to vacation.
Exfoliate and moisturize your skin two weeks before your trip to get the spray tan. Using oil-free products can help your skin to absorb the tanning solution completely and you can get that long-lasting, even tanned look.
Using self-tanners can make your tan last longer and your tan fades away more evenly.
If you are using a spray tan for the first time before vacation then, do not forget to do a trial run to get that desired tanned look.
Your tan will look best if you get the spray tan 1 or 2 days before your trip.
To avoid an uneven tanned look always make your spray tan done by a skilled spray tan technician.
Sun protection is always necessary to keep your skin healthy. So, use sunscreen after a spray tan to avoid damaging your skin during your vacation.
Ways to Take Proper Care of Your Spray Tan on Vacation
Taking proper care and maintaining your spray tan on vacation is very important to hold that beautiful tanned look throughout the vacation.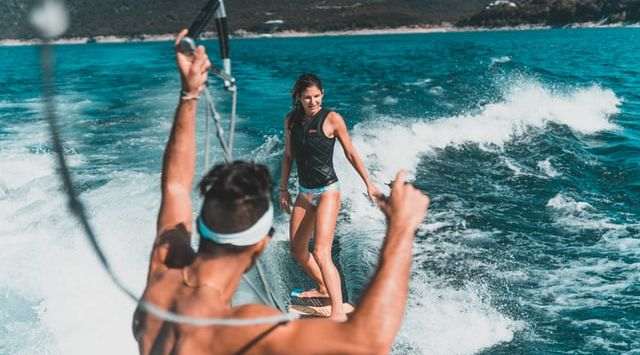 Here are some tips to maintain your spray tan on vacation. Also Read: When Should You Get a Spray Tan Before the Wedding?
Apply Sunscreen
Applying sunscreen is necessary if you are planning to take a dip in a pool or ocean on your vacation. Sunscreen acts as a barrier and helps you to maintain your spray tan.
Moisturize Your Skin
Dry skin can make the tan fade away faster. So, to hold your tan longer on vacation moisturize your skin well with a good moisturizer.
Avoid Shower
It is important to wait for 8 to 10 hours before taking a shower after your spray tan. The fewer you take a shower the longer it will take for your spray tan to get fade away.
Do not use soap or a scrubber while taking shower and just rinse quickly with warm water.
Use the Right Products
To maintain your spray tan for longer, using sulfate-free and paraben-free products is a must.
By using a spray tan-safe body wash you can easily make your spray tan last longer on vacation.
Avoid Shaving
It is always advisable to shave before the spray tanning session. shaving too often after getting the spray tan can easily fade away the tan as shaving is also a form of exfoliation.
So, avoid shaving every day to maintain your tan on vacation. If you want more information on shaving read this: Do You Shave Before or After Fake Tanning
A spray tan can save you time and money and can be easily used before vacation. It can help you to get that healthy, glowing bronzed look without getting exposed to the harmful UV rays of the sun.
Maintain your spray tan by following the tips mentioned above. As spray tanning is the healthiest and quickest option to get tan so, you will be ready to rock in that swimsuit before even getting on the plane.