You should definitely go for spray tan if you want to avoid tan lines due to suns UV damage.
With a perfect tanned look, you can also try some seriously bold make-up. A perfect tan can make your skin glow and can also help hide imperfections.
But people often get worried about falling victim to a tanning disaster. In this article, we will share with you some spray tanning tips that you need to follow before entering the salon.
We will also discuss how to make your tan last longer to avoid future disasters.
Best Tips to Help You Prepare for a Spray Tan
To get flawless, sun-kissed skin after spray tanning you need to follow these tips.
Exfoliate Your Skin
Exfoliation can remove dead cells from your skin. So, it is very important to exfoliate your skin before going for a spray tan to avoid uneven and patchy tan.
Shave
Shaving your body parts after tanning can remove the tan easily.
So it better to shave some areas of your body before tanning to get smooth tanned skin. Also Read: Do You Shave Before or After Fake Tanning
Moisturizing Your Skin
It is very important to hydrate your skin after shaving and exfoliating. Without moisturizing, your skin will appear dry and patchy after the spray tanning.
But do not apply an excessive amount of moisturizer as it might affect absorption by coating the skin. Also, avoid using deodorants and perfumes before tanning.
Time Is Very Important
Shaving, exfoliating and moisturizing should be always performed before getting the spray tan.
It gives your skin some time to relax before the tan. So, if you are preparing yourself to get tan in the afternoon then prepare yourself in the morning of the same day.
And if you want to get a tan in the morning then prepare yourself the night before.
Also Read: What to Wear After a Spray Tan
Wear Loose Clothing
Wearing loose cloth at the time of spray tanning will prevent your clothes from getting rubbed against your freshly applied tan.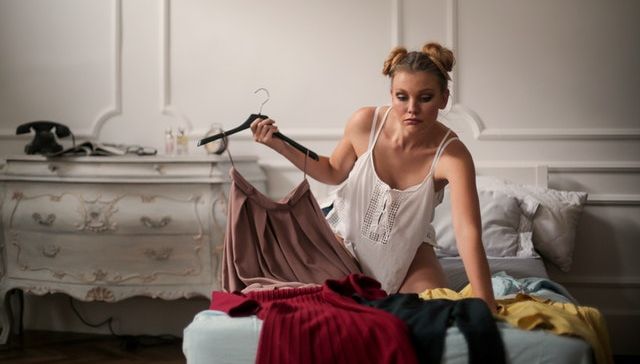 Wearing jewelry can also leave lines on some parts of your body. Dark clothes will prevent staining.
Pay Attention at the Salon
It is necessary to pay attention to your salon. Your tan technician will tell you how to position yourself to get a flawless application.
You should get a note of the instructions before getting the spray tan.
Use Nail Paint in Advance
It is better to paint your nails in advance i.e., before the tanning session. Nail paint will prevent your nails from getting that orange color of the tan.
Manicure and pedicure should also be done before the tanning process. Your spray tan can fade away prematurely and become patchy if you get a manicure and pedicure after the spray tanning session.
Go for a Lighter Shade
A lighter shade of spray tanning is best for pale skin. But it can be used for all other skin tones as well.
When your tan will develop it will appear darker so, it better to go for a lighter shade.
Also Read: How to Make Homemade Self-Tanning Lotion
Do Not Use Makeup
Make-up can leave you with an uneven spray tan and also prevent your tan from adhering to your skin properly.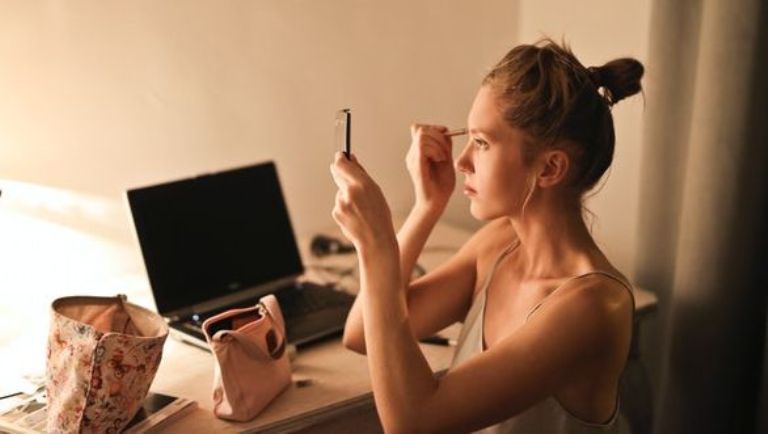 So, try to avoid using makeup before spray tanning.
Focus on Your Skin Tone
Every skin tone should get a different shade of tan. Your skin may look orange if you do not get the perfect shade of spray tan that matches your skin tone.
A person with a pale skin tone will definitely not go for a darker shade.
Try Tanning at Home
Sometimes people are not comfortable putting their tan in someone else's hand. In this case, you can definitely try spray tanning at home.
There are some home spray tanning products available in the market which can give you a streak-free, natural-looking result.
Perform a Test
To ensure you like the spray tan color and formula it is better to test it out before a week.
As it can be a big mess if you're going for a spray tan for the first time on your wedding day or before your major event.
Make Your Tan Last for Longer
Avoid taking hot showers and body washes. To make your tan last longer also avoid manicure and pedicure after getting the spray tan.
After the shower does not pat your body with a towel.
Hydrating your skin can make the spray tan last for a longer period of time. So, moisturize your skin daily in the morning and evening.
Your spray tan can easily get removed by exfoliates, oils, and soap. So, stay away from any kind of mask, scrubbers, and products that contain lactic or salicylic acids and alcohol.
So these are very useful spray tanning tips you need to follow before going for a spray tanning session.
If you want to remove the tan you can exfoliate your skin. Discuss everything with your tan technician prior to the appointment.
You can get that perfect bronze look by following a proper skincare routine and precautionary steps.
You can also apply spray tan on the areas that are hardest to reach. So, get that glowing and natural-looking tanned skin in no time by following the tips mentioned above.